Read Time:
2 Minute, 30 Second
Thursday Sep 19, 2013   |   Reuters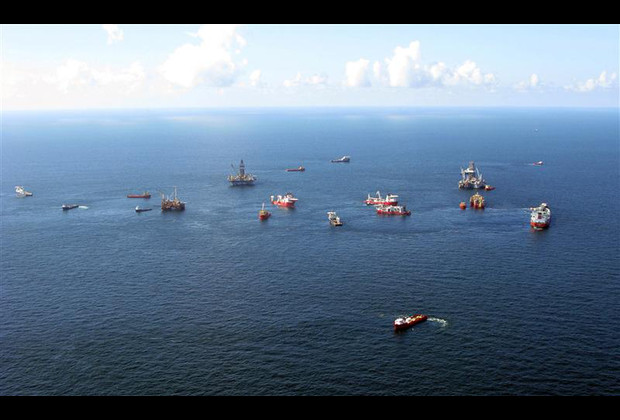 Aerial photograph shows continuing preparations to drill a relief well at the Macondo oil spill site in the Gulf of Mexico
Credit: Staff Photographer / Reuters/Reuters
NEW ORLEANS (Reuters) – Halliburton Co pleaded guilty on Thursday to federal charges of destroying evidence, stemming from its role in the 2010 BP oil disaster that killed 11 men and sent more than 4 million barrels of oil spewing into the Gulf of Mexico.A former Halliburton cementing technology director in Texas also was charged on Thursday with destroying evidence.

U.S. District Judge Jane Triche Milazzo in New Orleans accepted the company's guilty plea from Halliburton legal counsel Marc Mukasey, imposed the agreed-upon maximum fine of $200,000 and placed the company on a three-year probation term.

Mukasey did not make a statement on the company's behalf.

The Macondo disaster, the worst-ever offshore oil spill in U.S. history, so far has cost BP about $42.4 billion in charges on its balance sheet from payouts, cleanup and restoration costs and ongoing litigation.

The plea deal with Halliburton was first announced by the company and the U.S. Department of Justice on July 25. The U.S. Justice Department revealed the single count of destroying evidence filed against the former Halliburton manager, Anthony Badalamenti, of Katy, Texas, on Thursday.

In its plea, Halliburton admitted to the misdemeanor charge of "intentionally causing damage without authorization to a protected computer."

Halliburton provided cementing services for BP at the ill-fated Macondo drilling operation. Those services included placing "centralizers," or huge plugs, at various points in piping as it was placed inside the drilled well. Centralizers help ensure cement properly seals a well.

Halliburton had recommended BP use 21 centralizers in the Macondo well, and BP chose to use six. Halliburton later claimed that if BP had followed its recommendation to use more, the well would have been more stable.

According to court documents, the government alleged that in May 2010, as part of Halliburton's review of the disaster, Badalamenti directed another manager to run computer simulations comparing performance of 21 centralizers with that of six. In June that year, Badalamenti allegedly directed a second manager to run a similar comparison.

Both times, the simulations indicated there was little difference between use of 21 centralizers as opposed to six. Prosecutors allege that both times, Badalamenti ordered the managers to delete the simulation results from their computers, and both complied.

The judge noted that a company executive had directed employees to preserve material related to Macondo.

In an ongoing, multi-phase civil trial over the cause of the well explosion in federal court in New Orleans, both the government and BP contend that faulty cement work by Halliburton contributed to the disaster.

BP also contends that Halliburton destroyed computer evidence that would have shown those errors.
---
---
Categories: Health Technology News